About Ozmota
Ozmota Ventures
Ozmota Ventures is focused on start-up ventures and IP commercialization in the areas of Big Data, Social and Mobile where we see disruption and growth markets serving consumers, media providers and Enterprises. Through context discovery platforms and interest graph technology disruptive new applications are enabling users to better search, publish, share and to generally immerse themselves with knowledge and information in order to remain relevant, collaborate, build reputation and spark creativity.
Ozmota Ventures  supports start-ups in similar fields with commercialization support and potential early stage funding. Additionally Ozmota Ventures is  pursuing licensing agreements for its technology and intellectual property.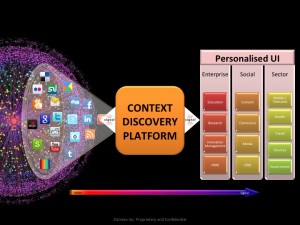 Ozmota was a venture backed corporation focusing on applications and solutions that pioneered developments for highly personalised, online user experience through patent pending technology. The company was  positioned for the new wave of intelligent internet services that will put sophisticated intelligence in an easy to use form delivering powerful solutions naturally augmenting digital cognitive attention. The technology lets users dynamically discover and consume information, which becomes critically important for productivity.
Ozmota solutions pulled knowledge and collaboration opportunities from the internet into connections that resolve around the user's online intentions. Underpinning these solution was their own semantic framework, allowing users to dynamically discover and consume information within a socially empowered knowledge network. This enabled  digitally driven opportunity, better organisation, more relevant relationships and intense digital focus through a "digital peripheral vision". This equates to less time loss, less digital noise, less friction and less fatigue delivering more focused opportunities, knowledge retention and discovery.
Watch this video to undertstand Ozmota's mission to Personalise the Web and Web 3.0
Web 3.0 from Kate Ray on Vimeo.
Linking Data and the "Cloud of Things" which will exceed humanity processing power by 2040